Destination 1, Senegal!
Image

Dallas Tatman, MA Religious Studies, 2016, and Former CAS Fellow
Image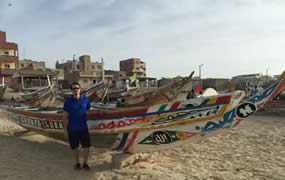 Senegal is a democratic West African nation with a reputation for religious and ethnic tolerance. My primary purpose for traveling there in the summer of 2016 as a FLAS fellow was to further develop my language skills in Wolof. However, as a graduate student affiliated with both the Department of Religious Studies and the African Studies Center, my secondary goal was to better understand the religious culture of Senegal.
My notable experiences included a trip to the Grand Mosque in Touba and attending a làmb (Senegalese wrestling) match at Demba Diop Stadium in Dakar. More meaningful than excursions however, were the daily interactions with the people of Senegal. Whether jogging in the streets of Dakar, watching televised soccer matches, sitting at a local mosque, eating in a restaurant, or bartering in the market, my conversations can be best summarized in the Wolof phrase on which I relied heavily: Waxatal ndank-ndank, or "Speak to me slowly." This phrase reflects both my status as a language learner and the idea that conversations in Senegal are seldom conducted in a hurry.
Language and culture are intertwined in Senegal, partially because of the history of colonialization. Wolof is the primary language in Senegal and is typically learned by children in the home, while French is the language of instruction in Senegalese schools. As a result, speaking Wolof is viewed as synonymous with "being Senegalese." Wolof reflects diverse cultures in Senegal and can vary depending on local French, Arabic, Pulaar, or even American influences. Regardless of region, conversation in Wolof is simultaneously an art form and ritual observance. The most obvious example is the preparation and drinking of attaya. Grammatically, attaya can be used as a noun or as a verb. This hot, sweetened tea is served in very small glasses and usually in multiple courses. For each course, attaya is prepared freshly from leaves and involves an elaborate pouring protocol. If you are visiting a home and attaya is prepared, you know that you will be there for a while and that your host is interested in sitting down and spending time to get to know you. I was honored to be invited to share tea and conversation nearly every day, often with compete strangers. Over those tiny cups of tea, I discovered commonalities with Senegalese of differing occupations, social standing, and religious beliefs.
Conversation is not confined to sharing attaya. Almost all meetings begin with greetings that can extend for several minutes. "Hello." "How are you?" "How is your day going?" "How is your family?" All of these questions (and more!) frame a context of mutual respect and civility in which the subsequent conversation is conducted. This practice takes place in the market, in the mosque, and in the mbëdd (street). Buying a bottle of water? Inquire about the clerk's parents. Negotiating a cab fare? Ask the drivers how their work is going. Walking past a stranger? Show an interest in their well-being and ask about their day.
Sometime during my second week in Senegal, I realized that it was not just the vocabulary and intonation that differentiated my broken Wolof from that spoken in Dakar. Grammar can be learned easily enough with individual practice; however, cultural connotations reflected in language can only be learned through sharing experiences. As I made friends in the markets, sang along with popular songs, shared meals from a common plate, cheered at sporting events, and conversed in the mosques, others began to recognize those shared experiences in my speech and mannerisms. By the end of my time there, a stranger at the market heard me speaking Wolof and remarked with surprise to another patron, "He is Senegalese!"
As I reflect upon my experiences in Senegal, I realize some of my favorite memories began with individual exploration and ended with new friends. At the Dakar Language Center, I worked with an experienced tutor each day. Babacar individualized his instruction to my specific needs in content, delivery, and location. Some of the many off-site locations were Goree Island, the fish market of Grand Yoff, and mosques in the cities of Tivaouane and Piir. In addition to living with my host family, I was also able to spend time with several other families as we celebrated Ramadan. This flexibility allowed me to apply my Wolof in the context of everyday speech, to conduct academic interviews, and to establish a basic network of contacts for subsequent field research. Because of the training I received at UIUC and in Senegal, I have a strong foundation in Wolof language and culture that will enhance my future studies. I am looking forward to my return to Senegal not only for research, but to reconnect with friends!
Katrina Spencer, MS Library and Information Science, 2016, and Former CAS FLAS Fellow
Image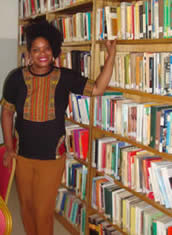 "Good! Great! Amazing!"
What do you say when the West African Research Association (WARA) writes you saying, "Based on your professional skills, we would like to award you our annual Fellowship and invest in the future of Africana librarianship. We will fly you to Dakar where you will spend two months helping to build a local library's collection and experiencing the culture. Are you free?" Here's a cheat sheet: you say, "Bien sûr! Yes, yes, I'm free." Is there really any other answer to give? So you clear your calendar and then you show up and have a plentiful series of intercultural encounters every day that wash over you like waves in the Atlantic:
the several assalamuleikums, many aleikum salaams, and some alhamdoulillahs
la mosquée et les marabouts, the calls to prayer, and the Allaaaaahu akbars
Gorée, "métisse," and the international phenomenon that is Beyoncé
the concept of "demain," of "toute suite," and "après la prière"
seven people eating from one dish, par terre, with our hands
cheb bu jen, cheb bu yap, the yassa of ten thousand onions!
poisson grillé, poisson pané, poisson de tous les types!
deux ronds de ataya, stp, Présséa, Fanta & Vimto! <3
les plusieurs boutiques, City Dia, Sandaga et HLM
«Quatre milles?» «6 milles!» «5 milles?» «Baahna!»
Waaw! Naam? De det! Kaay! Jere jef! Ñoku boku!
les boubous multicolores, wax print and tailleurs
Kirène de 400 CFAs, ablutions, and coups d'eau
Trente jours de Ramadan, le carême, Korité
«Fatiguée?» «Il fait très chaud!»
teranga, talibés, and taximen
«Ah! Vous êtes américaine!»
"Do you have WhatsApp?"
"You have a husband?"
Et ta journée? Ça va.
Et le travail? Ça va.
Tes activités? Ça va.
Leegi leegi!
and repos
repos
repos
Your senses are stimulated by all the novelty around you and the challenges of adjustment keep you sharp. After taking your bucket shower, haphazardly crossing the roads en route to work, and wiping sweat from your face, you manage to get some work done, to approach an understanding of local librarianship in West Africa, and to meet the mission of your trip. The time you spend in the library show you the challenges facing information seekers are real and perseverance is to be praised. You see that the library patrons face unpredictable power cuts that restrict access to online databases. You see that the library's collection relies heavily on donations from many Western entities that but marginally meet local needs. And you see that there is much outreach library workers want to carry out yet must navigate limited resources! Your ideas start to churn. You draft a new collection development policy that communicates standards of quality and relevancy. You weed titles that are tattered, outdated, and otherwise defunct. You digitize, explore ways to get your collection represented on World Cat, and you now intimately understand the importance of a modern classification system. And while this is going on—your frantic interior hidden by your calm librarian's exterior—you notice the lights flicker. And this time, the generator does not come on. You check your calendar: it says you have ten days left.
They'll ask you when you get home, "How was your trip?" And you'll hesitate. "Um…." How do you get it all in when you have only two seconds to respond? You know that the terse, pithy, acceptable response will be "Good! Great! Amazing!" But the accurate one might start with "I wish I could have. . ." and maybe end with ". . . if only there were more time."  Or perhaps, "It was frequently good, sometimes great, and occasionally amazing" will suffice.
Katrina Spencer is an August 2016 graduate of the department formerly known as the Graduate School of Library and Information Science (GSLIS) at the University of Illinois at Urbana-Champaign and a former Foreign Language and Area Studies (FLAS) Fellow for both Arabic and Portuguese. She currently works as a resident librarian at the University of Wisconsin at Madison. To read more on her professional aspirations, visit this link. To read her blog post "20 Things to Know About Dakar," click here. To see her comments to Africana librarianship hopefuls, click here.
Jane Kanter, BA Global Studies Major and 2015-2016, CAS FLAS Fellow
Image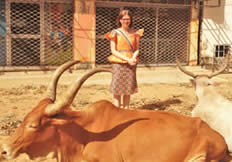 I arrived in Senegal on a warm night in September. I was tired, and answered all the customs questions in a quiet state of disorientation—a kind of daze that I felt as though persisted for at least a week after I arrived. September in Senegal, the middle of the rainy season, was not much hotter than August in Illinois, but it persisted through October. November through April, when I left, was dry season, and it got cool and dusty. It was a very different balance of weather than I was used to, especially because Senegal is very coastal and I had grown up very landlocked. The beaches and the sea breeze were much easier to love than the heat.
My adjustment to Senegal was a slow emergence from my early "daze," but by the end Dakar had become comfortable for me. My program helped me to settle in, and I very quickly fell in love with the atmosphere at the West African Research center, where our classes were held. My host family was very kind and helpful to my studies and learning about the country. I still want to go back and learn how to make more recipes the Senegalese way. Some of the food I loved right away, like maafe, a peanut stew with meat, potatoes, and carrots, and some, like the national dish of ceebu-jeen, a fish and vegetable stew, took time for me to truly appreciate.
The markets in Dakar were very similarly overwhelming during my first few months there, but they became familiar too. I learned to walk quickly, letting my eyes only brush over items lest I look too interested. I got better at haggling, a skill that served me well with the city's taxis as well as in the markets. I bought cloth and had beautiful clothes in Senegalese styles commissioned from tailors—a more affordable venture in Senegal than in the US. These days, shopping in malls or big-box stores, I miss some of the thrill of walking around the markets.
The program I was with allowed me a lot of leeway with my studies, and I was able to branch out and learn a lot over the course of my time there. My Wolof improved greatly, as did my French, and in between I learned about the history, culture, environment, and people of Senegal—and there was so much to learn that still I feel I have not learned enough.
At the time of writing, it is just over a year since my arrival in Senegal, and nearly five months since I have been back home. When people ask me about my trip, I always say it was amazing, and I am not being hyperbolic. I was constantly amazed by life as I encountered it in Senegal, and I am a different person for it. My year abroad has already shaped the course that I am going to take in my research and my graduate studies in ways I could not have imagined a year ago, and I look forward to where it will take me in the future.
Destination 2, Brazil!
Image

Gana Ndiaye, Graduate Student, Department of French and Italian
Image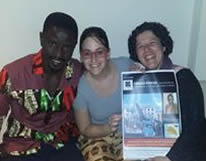 Thanks to funding from the Center for Latin and Caribbean Studies through the Tinker Fellowship and a MINN Fellowship offered by the Department of French and Italian, I spent the summer in Brazil doing exploratory fieldwork, laying the ground for doctoral research. My project focuses on Senegalese migrants in Brazil.
 My first trip to Brazil was in Fall 2014 when I spent a semester at the Federal University of Rio as a graduate exchange student from the anthropology department of the University of Leuven, Belgium. My summer 2016 experience was unique in many ways. This summer, I regularly participated in the activities of various black activist groups such as Sarau Preto, Educafro and centers working on African and Afro-Brazilian culture. For example, between May 30 and June 2, I took part in the film festival organized by the Afro Carioca Center of Cinema that focused on films produced by Black women from Africa, Brazil, and the Caribbean. I was particularly delighted to watch two films by Ethiopian and Malian directors that deal with the less popular issue of migration within the African continent.
My next destination was São Paolo. Luckily, the city was hosting the 7th World Social Forum on Migrations between July 7 and 10. Participating in the forum was an opportunity for me to meet with migrants, civil society activists, and researchers from around the world.  Prior to that, on July 4, I was a guest speaker at Casa das Áfricas (Instituto Cultural, de Formação e de Estudos sobre Sociedades Africanas).
 Besides doing archival research and attending conferences, I spent most of my time in Brazil interviewing Senegalese migrants and participating in the cultural events they organized in both cities. Two things in particular struck me during this summer. There is a strong interfaith dialogue that Muslim migrants, among whom are many Senegalese, are helping to create in a majority Christian country as they act as ambassadors of Islam and detach themselves from global terrorism. The El Nur Mosque in Rio de Janeiro and the Murid Dahira (a Sufi organization) are good examples of that. Finally, in 2014, I was often asked: "Are you from Angola?" This summer, as Senegalese street vendors increasingly become subject of media attention, the questions I have often been asked are the following: "Are you Senegalese?" "What are you selling?"
Destination 3, Sierra Leone!
Image

Courtney Eissenman, BS Food Science and Human Nutrition with a concentration in Dietetics
Image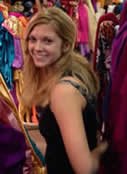 The people of Sierra Leone won my heart with their kindness and caring hearts. I volunteered at the local clinic and helped weigh expectant mothers and babies to ensure healthy weight and growth. I also had an internship with the worldwide NGO, Helen Keller International, where I helped conduct training on maternal and child health at rural clinics. Because of my semester in Sierra Leone, I found a job in international development where I have traveled to five countries in the past year for research and training.
Nikky Sogbien, BA Global Studies
Image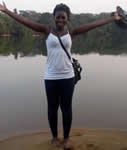 The internship was my favorite part of my semester in Sierra Leone. We were placed across the country to work with development organizations for five weeks while living with a host family. I lived and worked in a rural area in the southern part of the country. Working all day at my internship and coming back home to my host family and learning about their experiences and life made my semester all the more insightful and fulfilling.
 
Dana Wennerberg, BS Agricultural and Consumer Economics with a Concentration in Policy, International Trade, and Development
Image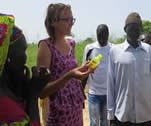 I did an internship with the International Institute of Tropical Agriculture (IITA) to work on their "Unleashing the Power of Cassava" project, where I lived in a small rural village and monitored and analyzed the progress of the project. This one-month internship opened my eyes to a world that was brand new to me, a world that I wasn't ready to leave after study abroad ended. It encouraged me to apply to the Peace Corps and today, I am finishing up my two years of service in Senegal as an Urban Agriculture volunteer where I have worked in everything from field crops to girl empowerment.
Annie Kelly, BS Agricultural and Consumer Economics with a Concentration in Policy, International Trade, and Development
Image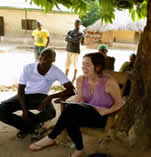 The semester in Sierra Leone program completely changed my view of the world and my career path. The people, the food, the beautiful beaches and mountains, and most of all, the way of life in Sierra Leone will never leave me. Because of this program, I decided to pursue a career in international development, and I am currently a Peace Corps volunteer in Africa.